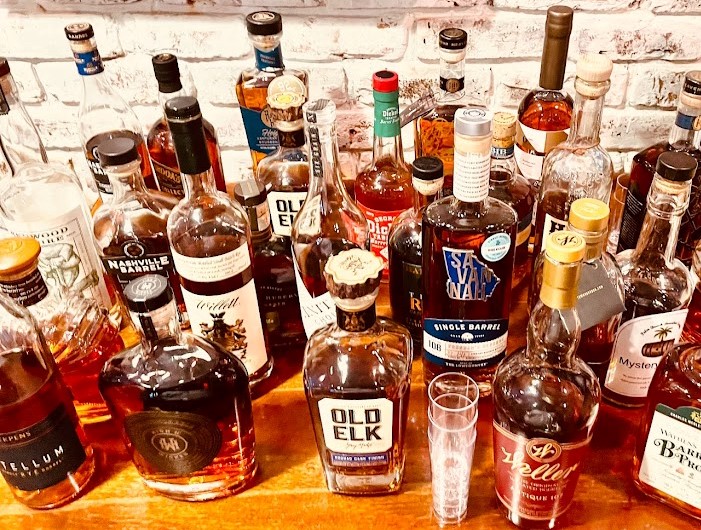 For the person who develops a taste for bourbon (or any whiskey in general), the time arrives (whether gradually or immediately) when you want to buy bottles of them and build a collection of your own. How you build a bourbon collection depends on various factors – not limited to how much money to spend.   
If you talk to anyone that has built a bourbon collection, the explanation and story told to you will differ, but how you build it always starts with one bottle that hooks you into its world. From there, the path can go several different ways.
ADVICE BEFORE YOU START YOUR BOURBON COLLECTION
Before you go down the rabbit hole into the world of bourbon collecting, where you will be spending hundreds (and ultimately thousands) of dollars on bottles, make sure the passion is there. Meaning: when you walk into a liquor store, a wine and spirits store, or any store that sells bourbon, make sure you are going to buy bourbon first and always first.
Your passion for bourbon should be obsessive-compulsive, the type of passion where most of your friends will grow sick and tired of hearing you talk about it.
If you like gin, vodka, rum, or tequila as equally as bourbon, you should think twice before diving headfirst into building a collection. In this scenario, investigate buying only a handful of bottles – such as the Reddit approach (five (5) bottles of bourbon you should ever need to purchase) — more on this in another post.
With that being said, here are some pointers to follow in building out your collection.
BOURBON COLLECTION BUILDING TIPS
1.) Start Small and Cheap
Look to buy bottles of bourbon that range in price between $20 and $30. Granted, you may have already tasted pours from glasses of bourbon you like where the bottle price is more than this. But outside of finding that bottle (whether readily available or limited in its allocation), start building your collection should involve picking up bottles that you can find easily in a liquor store.
Recommended bottles include:
Wild Turkey 101 – $20-25 Price Range: 101-proof bourbon, comprising barrels ranging from four (4) to seven (7) years in age.
Rebel 100 Straight Bourbon – $20-25 Price Range: 100-proof wheated bourbon comprising barrels ranging from four (4) to six (6) years in age.
Woodford Reserve Straight Bourbon – $25-30 Price Range: 90-proof bourbon, comprising barrels ranging from four (4) to six (6) years in age.
Evan Williams Single Barrel – $25-30 Price Range: 86-proof single-barrel bourbon, coming from a single barrel as opposed to a batch of barrels, where the age will differ depending on the barrel itself – normally, at least four (4) years in age.
Old Grand Dad 114 – $25-30 Price Range: High-proof (114), high-rye bourbon derived from barrels at least four (4) years in age.
1792 Small Batch – $25-30 Price Range: 93.7-proof small batch bourbon consisting of barrels at least four (4) years in age.
Buffalo Trace – $27-30 Price Range: 90-proof small-batch bourbon comprising barrels ranging between seven (7) and nine (9) years in age.
These bourbons should provide an excellent first experience into the primary flavor profiles you will find on the palate neat without breaking the bank. If you can drink these neat, you can certainly use them as a mixer for cocktails.
Discovering a Bourbon Doesn't Drink Well Neat
If you buy a bottle of bourbon and discover you're only using it for mixers when friends are over, and can't drink it neat, then it shouldn't be taking up space in your collection. Always do your best when you pick up a bottle to determine whether this will be a good drinking experience or one that you are trying to quickly pass off to your friends mixed with coke like you are reliving college all over again. Even if you use one specific bourbon for mixing cocktails, it should be a bottle from which you can also enjoy a neat pour. If you can enjoy the bourbon neat, then you can enjoy it in a cocktail.
Avoiding Expensive Bourbon Bottle Purchases… In the Beginning
While the temptation is there to find some of the flashy bourbon bottles high in demand and go for hundreds (sometimes thousands) of dollars over the manufacturer's suggested retail price (MSRP) — e.g., Blanton's Single Barrel, Pappy Van Winkle 15 Year, and Weller 12 Year, for example, don't fall into that trap. There are thousands of different bourbons available in the marketplace produced by hundreds of distillers today. Find those bottles first that aren't going to cost you "an arm and a leg".  
2.) Properly Store Your Bottles of Bourbon
While many bourbon drinkers and collectors fantasize about having a "bourbon room" or some room in a cellar designed in dark wood with leather-bound chairs smelling like rich mahogany, that's not entirely realistic in the beginning unless you have the cash to spend. However, you can ensure your bourbon collection is in a secure, designated area that comprises a shelf by the kitchen, a bar counter, a liquor cart, or a display such as a glass-paneled cabinet.
You can purchase kitchen carts and three-tiered shelving online from Amazon and other retailers that you can assemble for storing your bourbons. And make sure you keep away your bourbons from windows where the sun usually comes through.
Ultimately, as you build your collection, you can separate your collection from everyday bottles (bourbon you can consider daily drinkers – and within the $20-30 range) and those for more special occasions that may cost a little more. Keep the former on one readily available shelf and the latter in a more enclosed case or remote room away from general view if you don't want to open that often.
3) Tasting and Reviewing Your Bourbons
Part of building your bourbon collection stems from determining what bourbons you prefer over others. Especially if you drink your bourbon neat, you will find that your flavor profile will change over time from when you first start your collection.
Therefore, taste testing your bourbons – including blind tastings – is essential in seeing what you like and don't. To taste neat, see if you can pick up some Glencairn glasses (they are small and tulip in shape). If not, any tumbler/rocks glass or a sherry/port wine glass can suffice for nosing and tasting the bourbon.
Nosing the Bourbon
Initially, take the glass and bring the rim within two (2) fingers in width from your nose (an inch or two (2)) to where you can smell the flavors without just sensing the ethanol fumes from the alcohol.
Too close means you'll feel your nostrils on fire.
As your nose adapts to the aroma of the bourbon, then you can move it closer to within the glass.
Sipping the Bourbon
Sip the bourbon to determine the flavors you pick up when it initially enters your mouth at the tip of your tongue (which serves as your palate), as it travels across your tongue and mouth, and when it hits the back of your mouth before swallowing.
Because your tongue has many senses regarding taste, what you will experience with sipping the bourbon will change – picking up more than a couple of flavors.
For example, you may taste vanilla and caramel; pick up the oak from the wooden barrels where the bourbon was stored; pick up some baking spices and black pepper. There may be some citrus notes you discover.
The mouthfeel may comprise a body (volume) and a sense that ranges from full and rich to light and watery. Some people say they experience an "exceptional mouthfeel" on the palate when sipping, which could describe a variety of different interactions based on prior experience with sipping other bourbons.
Make sure to add a couple to a few drops of water to see how it tastes to you. Maybe you prefer your glass of bourbon on the rocks. But do see how your experience changes when you add water and ice to the equation.
How does the Bourbon Finish?
What flavors linger on your palate long after you have swallowed the sip?
Does the taste quickly fade away, or does it linger for minutes?
4) Expand Your Knowledge of Bourbons
As you build your collection and become more immersed in the world of bourbon, make sure you find other bars that have an ever-expansive selection of bourbons for you to try. By trying more bourbons, you can determine which ones you prefer before you decide to buy more bottles that fall in a higher price range.
From visiting these bars, you will meet people who are also bourbon enthusiasts on your journey that can discuss the joys of the brown liquid and advise on what to seek for bottles at local liquor stores as well as online retailers that sell.
Furthermore, discover online and through books about the culture and history surrounding bourbon, the distillers that produce them, and other people's experiences and reviews. Make sure to document your own experiences to determine what your first experiences were and how they changed over time. These experiences also make for good stories to share with your fellow bourbon friends so you can become better immersed in this world.
FINAL THOUGHTS ON BOURBON COLLECTION BUILDING
Through your experiences, you can determine what you like that you would purchase again, and maybe something else by that distiller or someone else that may be more money. How your bourbon collection develops over time depends on you ultimately, but it should be a journey however you see fit.