Palm Beach Bourbon Society (PBBS) had so much fun at Sweetwater: Cocktails, Whiskey & Kitchen (Sweetwater) in Boynton Beach for the June Meet N' Greet event that they made the decision to have an encore there with the July one. If you are a PBBS member and attended the June event, you could easily state that the July event topped the former.
Like the June PBBS event, attendees enjoyed pours from a collection of bourbon bottles they had brought to share while noshing on some small bites prepared by the Sweetwater kitchen. However, the July PBBS event found attendees enjoying an even larger array of bottles, comprising bourbon, rye, and scotch, from which to choose to pour.
If you've been to at least a few of the PBBS Meet 'N Greets between October of last year and this recent event, you could argue that the cache attendees could pour was, by far, the largest yet. Part of this could be attributed to the large turnout by PBBS members — new and existing active ones. At least 30 people enjoyed great pours of the "brown water" at Sweetwater, clinking Glencairn glasses and engaging in the excellent vibes and company this event became.
The Pours
For those that attended the July PBBS event, the number of bottles available to pour was phenomenal. Everyone came with different expressions based on their preference of pour.
Highlights from the Bourbon (as well as the Rye and Scotch) Bottle Share included the Smoke Wagon Uncut Unfiltered, the Weller Antique 107 wheated, Four Roses Single Barrel – Barrel Strength, Marker's Mark Wood-Finishing FAE-02 wheated, the ASW Fiddler Georgia Heartwood "Glory Glory" release and the Issac Bowman Port-Barrel-Finished bourbon.
A surprise standout was a bottle I had never tasted, the Dancing Goat High Rye Bourbon, aged 8 years. While there were subtle notes on the nose of fruit, the palate comprised caramel, vanilla, and cream, making for a supersonic sip, which seemed to be the sentiment of most attendees who tried it. Out of all the bottles brought to the share, the attendees bottle-killed early in the event.
The single malt statements brought to the July PBBS event at Sweetwater were a bigger surprise. Releases by Bruichladdich were astonishing, especially its Micro Provenance single cask release that was aged for 10 years and bottled at a cask strength of 126.2 proof. Unlike many single malt expressions, this one consisted of a complex signature known with these types of releases drawn from one of 200 different casks.
Bourbon
Peerless Double Oak Bourbon
Colonel E.H. Taylor Small Batch
Smoke Wagon Small Batch
Smoke Wagon Uncut Unfiltered
Weller Antique 107
Eagle Rare
Elijah Craig Small Batch
Woodinville Small Batch
Ezra Brooks Cask Strength Distiller's Collection
Four Roses Single Barrel – Barrel Strength
Maker's Mark Wood-Finishing Series FAE-02
Uncle Nearest 1856 Premium Whiskey
ASW Fiddler Georgia Heartwood – "Glory Glory" National Champion Release
Chattanooga Whiskey Cask 111
Chattanooga Whiskey Experimental Single Batch Series Appalachian Grist
Dancing Goat Distiller High Rye Bourbon Aged 8 Years Stillman's Private Stock
Wild Turkey Rare Breed
Larceny Barrel Proof
Woodford Reserve Straight Bourbon
Art of Alchemy Blended Straight Whiskeys
Chicken Cock
Fireside Single Barrel
Issac Bowman Port Barrel Finished
Castle & Key Small Batch (Batch #1)
Rye / Tennessee
10th Mountain Rye Whiskey
Chicken Cock
Jack Daniel's Single Barrel Select
Blue Run Rye
Scotch
Bruichladdich Micro-Provenance Single Cask release in France 10 Years
Bruichladdich Port Charlotte Valinch Heavily Peated Islay Single Malt
Bruichladdich Port Charlotte Cask Exploration 16 Am Fear A Behosh Aise Gheibi E
Highland Park 20-Year Single Malt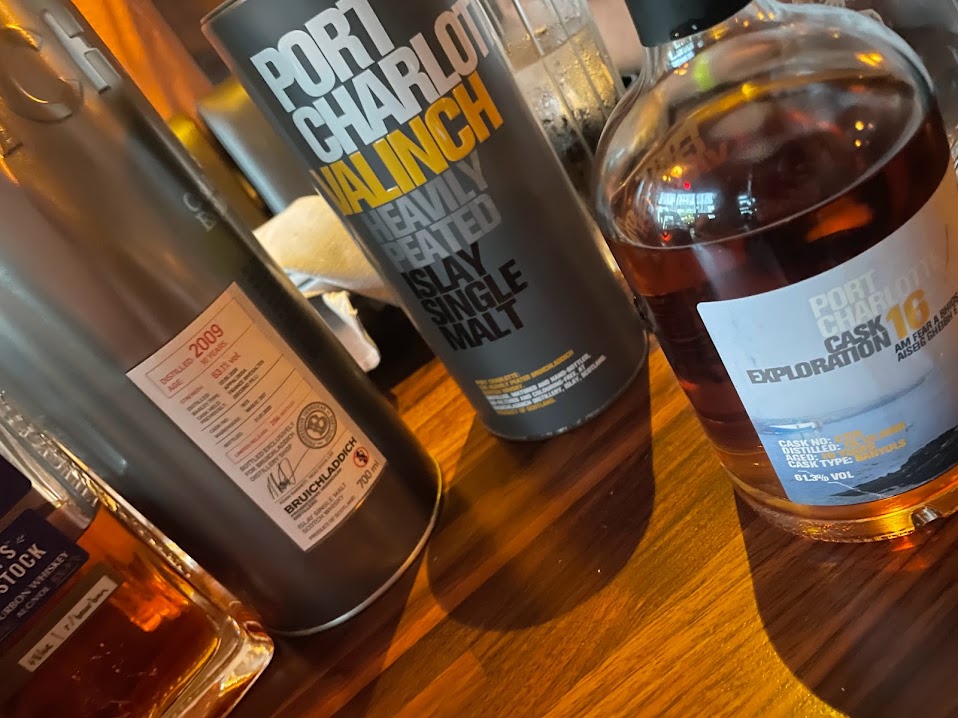 Distillery Tastings
Noxx & Dunn and Hard Truth Distilleries attended the July PBBS event to pour some of their latest offerings and give attendees opportunities to try some whiskeys of different signatures or liqueurs altogether.
Noxx & Dunn Straight Barrel was a nice sipper, especially if you want to enjoy a pour at barrel strength or full proof.
The Hard Truth offered a tasty and savory 14-year-old Schoonover Uncut & Unfiltered Straight Bourbon that was quite chewy on the finish. Additionally, they had a 100-proof Indiana Rye Whiskey, a 115-proof Sweet Mash Rye, and bottles of various liqueurs such as Maple Bourbon Cream, Peanut Butter Whiskey, and Toasted Coconut Rum.
Tasty Treats
The July PBBS event eats prepared by Sweetwater were quite tasty between the Poke Tacos, Korean BBQ Tacos, Cauliflower Hushpuppies, and flatbread — similar to the June PBBS event. But everyone who could grab a taco or two, a couple of hushpuppies, and some flatbread were more than satisfied.
Until the Next One
July's Meet 'N Greet at Sweetwater could easily be considered the best event done since re-starting last year. Everyone enjoyed various pours as they hobnobbed with each other, noshing on some food and taking in the friendly vibes that bourbon can deliver.