Finding a good whiskey bar is a lot like life; sometimes, you're lucky, and you find that special one with the charm, the company, and the selection that won't force you to sell your first-born child. However, you may find searching for a whiskey bar a challenge based on where you live in the United States, Europe, Asia, Africa, or Australia respectively.
Being that this Bourbon Blog is based out of South Florida in the United States, specifically in Palm Beach County, we will be focusing on the whiskey bars in this local area that you can frequent to develop your expansive palate with bourbon. These bourbon bars will serve as the locations where you can order pours from bottles to determine whether you buy a bottle later.
The other aspect of finding a good bourbon bar is the clientele (or crowd). Finding a good bourbon bar means finding a community of others who have at least a passing knowledge of bourbon and are willing to "talk shop" and provide pointers and tips on what pours to order (and bottles from nearby local stores after you leave).
If you're looking to find good liquor stores to build your bourbon collection, it's best to find out from the best sources, usually local bourbon drinkers in whiskey bars.
With that, here are some local Palm Beach County whiskey bars that have good bourbon bottle selections.
Boynton Beach, Florida
Sweetwater is a glorious speakeasy-styled bar in Boynton Beach on the corner of Woolbright Road and Federal Highway in the Los Veritas complex that specializes in a terrific selection of various spirits, such as bourbon, comprising hundreds of bottles.
If you're a bourbon drinker or a spirit aficionado, Sweetwater has any type of liquor/liqueur you could possibly want, they have. Being a bourbon enthusiast, walking up to the bar with the shelves of spirits such as bourbon behind it is like being a kid in the candy store and wanting to order a pour with everyone imaginable.
Delray Beach, Florida
Probably one of the most impressive displays of whiskey I have seen at a bar in Palm Beach County, Warren is a happening place with a whiskey bar whose design and aesthetic breathes happiness for the bourbon drinker.
If you're in West Delray Beach off of U.S. 441 and Atlantic Avenue on the southeast intersection (basically across from the Delray Marketplace), you can find the Warren to be a mecca for all selections of whiskey, including bourbon, scotch, and Irish whiskey. At the Warren, you will find the opportunity to order pours of hard-to-find bottles of Pappy Van Winkle, among other bottles.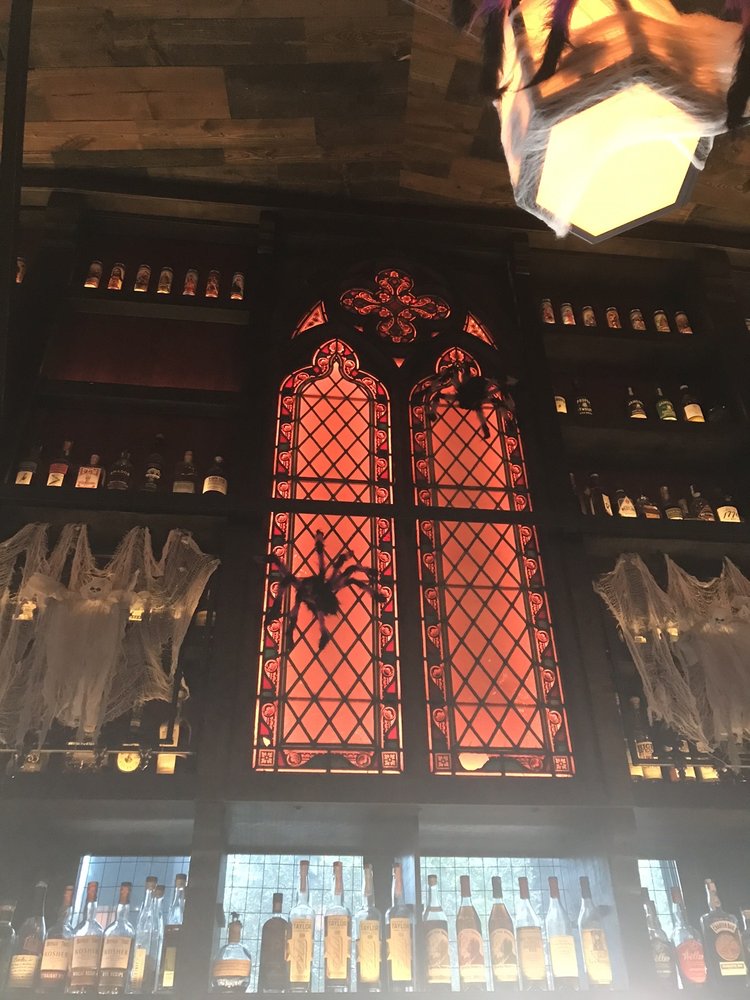 Palm Beach Gardens, Florida
If you're visiting Downtown at the Gardens Mall, Voodoo Bayou is a must-visit, not just for the food but for the drinks. In addition to having a fantastic ambiance that Cajun meets gothic, with excellent cuisine and cocktails, Voodoo Bayou offers quite a groovy whiskey selection that's listed on its primary menu.
Price-wise will depend based on what you're looking to order, but if you're seeking to try some pours that you haven't before, you can find them here. They offer allocated bourbons such as Blanton's Gold, EH Taylor Barrel Barrel Proof, and earlier releases of George T. Stagg. They also have a solid rye selection, a variety of scotches, and Japanese, Canadian, and Irish whiskeys.
Riviera Beach, Florida
Located off on the westbound side of Blue Heron Road, down the street from U.S.1, the Inlet Bar is a local dive bar that's part of the building that holds Inlet Harbour Liquors — one of the best stores to pick up bottles of bourbon (especially store picks). But if you want to cool your heels and enjoy a relatively inexpensive pour of some sought-after bourbons, you can visit the Inlet Bar before or after you splurge at the liquor store.
Inlet Bar offers one-and-a-half-ounce pours of bourbons and ryes such as Blanton's, EH Taylor Small Batch, Elijah Craig Toasted Barrel, Michter's Barrel Strength Rye, and Elmer T. Lee for $15 each.
Searching for Whiskey Bars Online
You can perform online searches on web browsers such as Google and Bing and service and online review directories like Yelp to determine where they may be a bar that provides good bourbon and overall whiskey selections in your local area.
While it's always easy if you live in a city or area with a high volume of bars that may possess some good bottles, there will be some trial and error in the process. The key is to at least find one where you feel comfortable grabbing a bar stool and asking the bartender or the surrounding patrons what's good to order.